Classic 1896 Victorian Two Story Home - 3 Bed/2 Bath - Located in Alamo Placita Historic District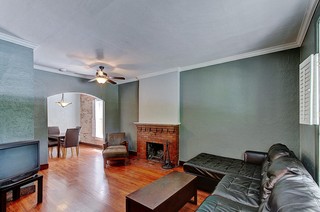 Location:
Alamo Placita
Alamo Placita...Recognized as One of the Best Places to Live in Denver!
PROPERTY DESCRIPTION:
Classic 1896 Victorian two-story home located in Alamo Placita offers a lot of living in an eco-friendly footprint. The exterior of the home features classic Victorian shingles and stucco with custom paint. The covered front porch graciously welcomes you into the home and is wonderful for sitting outside and watching the world go by. The front porch has period wood detailing, new railings, new paint, brick and wood columns. The professionally landscaped and terraced front yard allows great utilization of the front yard for lots of outdoor fun.
The charming entryway features the original wood staircase with detailed woodwork, bannister, balustrades and newell post with period, as well as a large, custom leaded glass window at the landing of the stairs.
The main floor living room is the perfect size for entertaining and has arched doorways to the dining room and entryway. The large picture window, with leaded glass detailing and plantation shutters, that looks onto the front yard floods the room with light. Other features include a brick fireplace with wood mantle, wood floors, high ceilings, custom paint and period vent covers.
The main floor dining room has arched doorways to the living room and office/study, an exposed brick wall, wood floors, high ceilings, custom paint, updated lighting and a large double-hung window.
The open office/study on the main floor has arched doorways to the dining room and hallway, as well as wood floors, high ceilings, a large double-hung window, custom paint, closet, built-in cabinetry and drawers.
The main floor bathroom is a half bath featuring updated vanity, lighting, toilet, medicine cabinet and custom paint.
The kitchen has two large double-hung windows and a glass paned door to the back yard and patio, which provides loadsof light. There is a pantry closet, plenty of counter space, tile flooring, custom stacked cabinetry, can lighting, white GE refrigerator, white Tappan electric stove, and black GE dishwasher. The laundry closet is located in the kitchen and the white stackable Frigidaire washer and dryer are included.
The large master bedroom located on the second floor features a comfortable sitting area, which is perfect for relaxing in a reading chair, and an en-suite door to the bathroom. Other features include; wood floors, custom paint, ceiling fan, two large double-hung windows, offering plenty of light, and two large closets with a customized shelving system.
The second floor bathroom is a remodeled full-size bath with a skylight, updated vanity, two sinks, two medicine cabinets, lighting, tub, tile, toilet, wainscoting and custom paint, that opens to the master bedroom and the hallway.
There are two other bedrooms located on the second floor, both have wood floors, custom paint, large windows, and large closets. Please note the custom mural of a dragon and a turtle roasting a marshmallow painted on the wall in the third bedroom.
Imagine having barbeques and parties with your friends and family in the large fenced, professionallylandscaped back yard with covered patio and outdoor ceiling fan.
The detached two-car garage, with a large bonus workroom, has an enormous amount of storage in the loft area, which is accessible by wood stairs.
There is also a sprinkler system.
Live a heartbeat from Cherry Creek, Wash Park, and Lodo restaurants, coffee shops, pubs, grocery and retail shopping. Access to great public transportation
WEBSITE:
www.546OgdenSt.com
PROPERTY HIGHLIGHTS:
Bedrooms: Three
Bathrooms: Two
Wood Floors: Yes!
Leaded Glass Windows: Yes!
Arched Doorways: Yes!
Brick Fireplace: Yes!
Original Wood Work: Yes!
High Ceilings: Yes!
Exposed Brick Wall: Yes!
Double-Hung Windows: Yes!
Picture Window: Yes!
Custom Paint: Yes!
Custom Bedroom Mural: Yes!
Custom Cabinetry: Yes!
Custom Period Lighting: Yes!
Ceiling Fans: Yes!
Remodeled Bathrooms: Yes!
Period Vent Covers: Yes!
All Appliances Included: Yes!
Covered Front Porch: Yes!
Covered Backyard Patio: Yes!
Terraced Front Yard: Yes!
Sprinkler System: Yes!
Professionally Landscaped: Yes!
Garage: Two Car Garage
Garage Loft Storage: Yes!
Workroom in Garage: Yes!
Finished Square Feet: 1,466
Total Square Feet: 1,646
Lot Size Square Feet: 3,910
NEIGHBORHOOD
The Alamo Placita neighborhood of Denver, Colorado, United States, is named after Alamo Placita Park which is located on the north side of Speer Boulevard between Ogden and Emerson Streets.
The neighborhood is bounded by Downing Street (east), Speer Boulevard (south), Pennsylvania Street (west), 6th Avenue (north) west of Clarkson Street and 7th Avenue (north)east of Clarkson Street. Alamo Placita is part of a larger official neighborhood called Speer.
Alamo Placita Historic District has some homes built for some early prominent Denverites, but mainly recognizes the 1889 to 1942 environment of middle-income building trades and professional people, along with early clerks, Tramway workers, railroad men, and the like.
The first district residents expressed their aspirations for success in part through building their neighborhood in important architectural styles of the day. Investors who built single- and multifamily residences followed this lead. Together they created an environment of lower-scale dwellings with streetscapes that respected visually pleasing setbacks accommodating gardens, lawns, and sidewalks. The gentle intermingling of architectural styles, building materials, and individual decoration remains clearly apparent despite more recent setback violations where a few demolished original structures have been replaced.
The earliest district residences were designed in Victorian-era styles. After 1893, when the Victorian-era influence began to wane, much of the district remained undeveloped. Alamo Placita residents were quicker than wealthier citizens to embrace the Arts and Crafts Movement, interpreted mainly in Alamo Placita through Foursquares and Bungalows. Wealthier citizens tended to express their status through the Classical Revival-style architecture of their residences. Less wealthy citizens were more open to the perceived practicality of new designs. Over time, in tandem with the Arts and Crafts influence, came a sprinkling of the popular Tudor-style dwellings, Spanish Mission-style dwellings, and others that spoke to Denver's tenuous southwestern U.S. identity. The physical context of the district includes the small commercial buildings that were built along district borders, E. 6th Avenue, Speer Boulevard, and Downing Street.
In 2000, the Denver Landmark Preservation Commission unanimously recommended designation of the Alamo Placita Historic District based on the significance of its history, architecture, and geography. The City Council agreed, unanimously voting to approve the designation on June 12, 2000.


Parking Spaces:
Two Spaces
Subdivision:
Alamo Placita
Garage Size:
Garage + Workshop
Broker:
Buildings & Residences
All information in this site is deemed reliable but is not guaranteed and is subject to change
ID#: 54643693
Location: Denver, CO , 80218
Address: 546 Ogden St, Denver, CO, 80218, US
School District: Denver

Price: $525,000
Bedrooms: 3
Bathrooms: 2